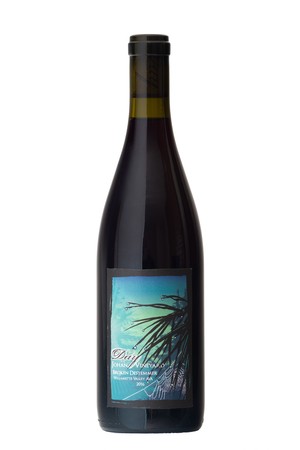 2016 Pinot Noir 'Broken Destemmer' Johan Vineyard
Willamette Valley
$10 FROM THE SALE OF EVERY BOTTLE GOES TO THE NAACP
In 2016 we had near perfect growing conditions across the Willamette Valley. Most of our Johan fruit had already come in and was in fermenter, but we always pick Johan in a couple of passes based on ripeness of the blocks. The day we brought in the second round of fruit - the Wadenswil - our destemmer broke. We scrambled and tried to find a replacement but weren't able to get anything in place until the next day and we needed to process the fruit then, otherwise run the risk of losing the fruit to VA or other bad critters. So, we decided that we would sort the fruit, ferment it all whole cluster, and then blend it back in with the rest of the Johan wine. The fruit fermented easily and without drama. It smelled great the whole time and had no issues. We put it into 4 barrels, none of them new. About a year later, Brianne was tasting through all of the 2016 Johan barrels and she realized how completely different the whole-cluster barrels were from the rest. It was really a unique and special wine that showed signs of being able to age for a long time.
Like it did from barrel, the Broken Destemmer shows an effusive nose of gorgeous complexity, with tart black cherry fruits next to dried rose petal, followed by a brooding streak of pencil lead and thyme. The wine is still nascent so the palate starts out a bit nervy, but it quickly organizes around a core of juicy red plum and black raspberry supported by firm tannins and racy acid. With some air, the 100% whole clusters assert themselves in notes of mint and smokey gravel vying for position with the fruit, which gains in weight and density over time. This wine is a happy accident if ever there were one, and we can't wait to see where it goes after 6 to 8 years in the cellar.
93+ points John Gilman in View From the Cellar: "Brianne Day calls the 2016 Johan Vineyard bottling of pinot noir the 'Broken Destemmer' cuvée, as the destemmer was indeed down when these grapes came in and, as a result, this is one hundred percent whole clusters. The wine is nicely ripe at 13.5 percent and offers up a beautifully promising bouquet of red and black cherries, raw cocoa, gentle spice tones, a complex base of soil, sweet stems, a deft touch of lead pencil oak and a smoky topnote. On the palate the wine is pure, full-bodied, tangy and complex, with a great core of fruit, ripe tannins and stellar length and grip on the beautifully balanced and very promising finish. This is a very young wine and will need time in the cellar to properly blossom, but it is going to be gorgeous when it is ready to drink! 2026-2055+." (Jan/Feb 2020)
Winery exclusive wine - Only available for purchase directly from the winery in our tasting room, online, or over the phone.
Wine Specs
Appellation
Willamette Valley
Vineyard Designation
Johan Vineyard